Tamil Nadu dishes are known for its rich varieties of cuisines, including both vegetarian and non-vegetarian. The state offers many healthy diet foods that can help with your weight loss efforts. In Tamil Nadu, Rice and lentils are their main food.
These cuisines can not only be a part of a diet to lose weight, but they are also so delicious that you would never want to stop eating them. Tamil Nadu dishes are also healthy like Bengali, Punjabi, and Karnataka dishes.
Consult For Weight Loss And A Diet Plan today
Tamil Nadu Dishes: Drinks For A Healthy Diet
1. Nongu Sherbet (43+ calories)
Recognized as Nongu Tamil Nadu, ice apple is a juicy fruit that comes from the Palmyra tree. It is used to make Nongu Sherbet, which is quite beneficial for a healthy diet and has an abundance of gentle flavors. This drink is a great relief in the days of hot summer when you want nothing but quench your thirst. It is a cooler drink one should not miss.
2. Sambaram or Butter Milk (40 calories per 100 gm.)
It is popular as a Ram Navmi special in Tamil Naidu. Though, every household makes its version of this weight loss drink. It is also called Neer Mor, which is basically a watery buttermilk. This is a great addition to your diet to lose weight. It has cooling properties and excellent for a healthy diet with added flavors.
Tamil Naidu Dishes: Snacks For Healthy Diet and Weight Loss
1. Sesame Cakes (35 calories)
Sesame dish is a great source for healthy calories. When it is combined and baked with jaggery, it becomes a sweet-tasting cake with flavorful crispiness and aroma. These cakes have a lot of nutritional values and are good for those suffering from diabetes. It can be added to the diet to lose weight and so on.
Read more: Traditional Bengali Dishes to be fit and to Lose weight
2. Kuzhi Paniyaram (33.4 calories per serving)
Made from black gram, Kuzhi Paniyaram is also a snack rich with healthy calories. You can make it spicy with chilies or eat it with sugar to make it sweet. It is healthy and can be eaten by anyone. It is a resourceful dish for the diet to lose weight.
3. Green Pea Masala (calorie 149)
Being rich in healthy proteins, carbohydrates, and dietary fiber, Green Pea is a small vegetable that can be used to make an excellent healthy diet food. You can mix green peas with spices to create a spicy, delicious, and healthy snack.
4. Peanut Snack (calorie 233)
This is the regular snack that is part of many cultures including Tamil Nadu. It is very easy to prepare and quite pleasant to eat. This is indeed a healthy snack with a combination of boiled peanuts, carrots, spices, etc. making it a flavorful and colorful snack. It can make a delicious part of a diet to lose weight.
5. Moong Dal Masala (72+ calorie)
It is efficient weight-loss diet food. This is rich in calories, vitamins, proteins, potassium, sodium, etc. In addition, it is very easy to prepare. You can boil Moong Dal with coconut and salt. To add more flavours, you can also add a small amount of sugar and other spices. It is a healthy and aromatic dish.
Tamil Naidu Veg Dishes To Include in Diet to Lose Weight
1. Rava Upma (calorie 192)
Rawa or Semolina is used to make the healthy dish of Upma. First, it is dry roasted and then you can add vegetables of your choice in it to make it a healthy diet for weight loss. You can also garnish it with coconut and cilantro leaves to give it a mouth-watering look.
2. Gluten-free Masala Dosa (calorie 252)
It is a very easy recipe and a nice choice for having a healthy breakfast. This gluten-free masala dosa is a great vegan recipe that you can make quickly even if you don't have batter sitting around for hours. It is good for your diet to lose weight.
3. Garlic Rasam (calorie 67)
Garlic Rasam is a spicy and aromatic lentil soup that can be quite beneficial for easing sniffling problems during cold. It is very effective and healthy for weight loss.
4. Idli-Sambar (40 calories per serving)
Although it is a South-Indian dish, people all over the parts of this country like to have it. Idli is prepared with fermented rice batter and sambhar is prepared by adding lots of healthy vegetables and spices such as cumin seeds, curry leaves, mustard seeds, etc. It is a superior alternative for weight loss.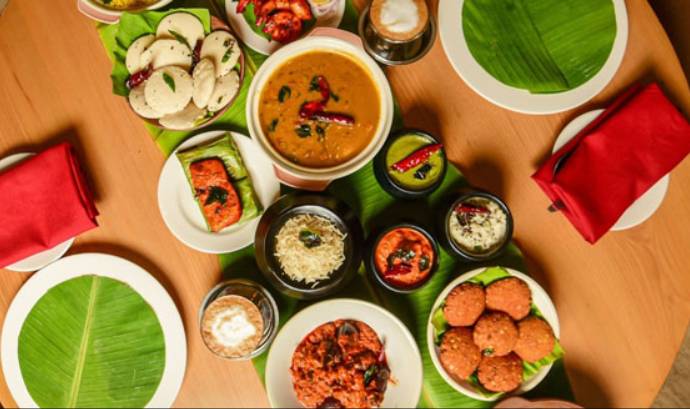 5. Kambu Rice (378 calories)
Kambu rice can be very valuable in maintaining a healthy diet. It is a famous dish of Tamil Nadu. This can be eaten with Sambar or a dish of mixed vegetables, called Kadamba Kootu. It is good for a diet to lose weight.
Non-veg items for Healthy diet
1. Chicken Chettinad (calorie 300)
This cuisine is known for its unique cooking requirements. Many marinated spices are added to the chicken and then it is properly cooked until it is juicy and delectable.
2. Prawns Kuzhambu (calorie 100)
It is prepared with prawn meat together with the marinated masala. It is also a popular delicacy from Tamil Nadu. Its marinated masala enriches the flavors and taste of the dish the moment it touches your senses.
3. Chicken Salna (calorie 120)
It is a native and healthy diet Tamil dish. The flavor of the main ingredient is further enriched by the unique, aromatic, and watery gravy of the cuisine. It can be eaten with rice.
Download Best app in India for Weight Loss Today..