To eat in the right proportion is very important to keep fit and fine. Rujuta Diwekar explains that eating food in the right proportion is necessary for her week 8 fitness project 2023. In week 7, she discusses the importance of homemade breakfast.
All of us are aware of the self-loathing cycle we put ourselves in when we try to go for weight loss diets. When you are cutting out specific food portions from your diets, you end up getting constipated, having bad moods, getting loose skin, and bad hair.  So you may feel bad and go back to eating normal again and get bloated.
Consult For Weight Loss And A Diet Plan today
We gain weight and feel more pathetic and try to go into another diet. So we try to cut out integral food groups like rice or roti and continue the cycle. So in the end, this does more harm to our health than good.
To overcome this issue, nutritionist Rujuta Diwekar explains the traditional Indian diet of eating in specific proportions to lose weight. She explains the benefits and ways to eat in proper proportions in her week 8 guide of the 12-week fitness project 2023.
Why To Eat In The Right Proportion
Proper proportions help inefficient digestion and assimilation of nutrients. It also ends constipation, bloating, and acidity.
It allows better excretion which leads to you feel lighter and energetic.
You can enjoy having great skin, hair, and overall good health.
You receive better nutrient status with the diversity in food groups. Especially more micronutrients like vitamins and minerals.
There's an improvement in your satiety level. You feel energetic and you don't have to crave chai, coffee, chocolates, and cigarettes.
Variety in food groups with proportions appeals to all senses. Specifically the eyes and taste.
With proportional eating, you can avoid dieting and deprivation while also being able to lose weight.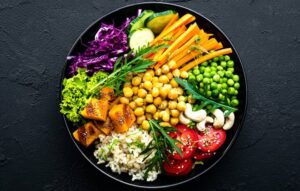 How To Eat In The Right Proportion 
A very simple trick to eating in proportions is to follow the 3:2:1 ratio. Take an Indian plate or more traditionally called a thali. Divide the thali into two halves. Fill half of the thali with grains (rice, chapati, etc.). Fill 35% of the other half with pulses, vegetables, dal, and if you are non-veg, then meat. Finally, fill up the 15% left on the thali with achar, chatni, salad, papad, pickle, curd, etc. So basically, you end up with 50% grains, 35% dal or sabzi, and 15% pickle or salad or curd. Thus you end up with a 3:2:1 ratio of different food groups in your thali.  And during festivals, the sweet comes only once and it comes to the centre of the thali.
Also Read : Ketogenic Diet: Long Term Keto Diet Is Dangerous
Important Notes
Additionally, Diwekar suggests having a cup of water before you eat your meal. You can be well hydrated and be able to eat in the time tested proportions of food. That way you go from the centre to right to centre to left on your thali.
In conclusion, you can effectively lose weight and also feel lighter and skinny, have great hair and skin, and overall have amazing health!
Week 8 Video Post By Rujuta Diwekar